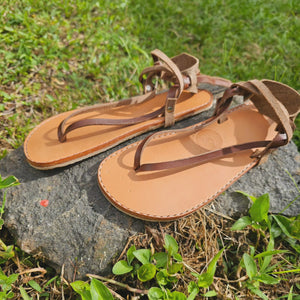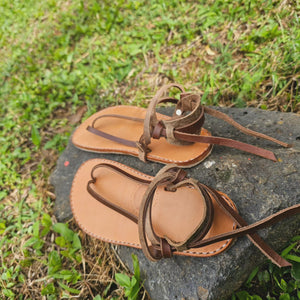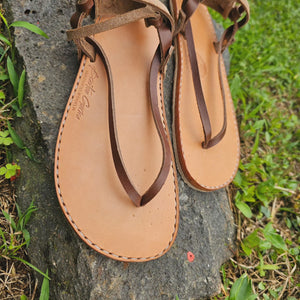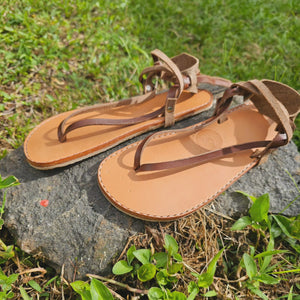 In Stock Kūkini Pono 6w
Handcrafted Leather Sandals
Details 
Meet the Kūkini sandals. Hawaiian texts and legends tell great stories of kūkini or Hawaiian runners. Often chosen because of demonstrated athletic ability. At a young age they were trained and logged long training miles through rugged terrain and difficult trails, worked on both speed and distance. Kūkini were employed by royal chiefs to work as swift messengers, spys and to complete tasks that required stealth and courage. They often ran barefoot however in certain situations they used what is called a Kāma'a La'i or Hawaiian twisted kī leaf sandal. A woven minimalist sandal from dried kī leaves (cordyline fruticosa plant) to cover their barefeet when trekking over sharp lava rocks and jagged rocks of the Pali (cliff).  This is my creative expression of those ancient Hawaiian sandals.
Kūkini Pono: Constructed with leather straps, leather heel cup and a 3mm leather footbed. On top of a 4mm vibram rubber sole. Hand stitched around the edges for added durability. Total thickness about 7mm. Designed with urban exploration in mind for harsher environments like hot asphalt, concrete etc...
4mm footbed made with hand cut A grade Herman Oak (St Louis, Missouri) vegetable tanned leather
Horween latigo 5oz (Chicago, Illinois) milk chocolate color leather anchor laces & heel straps.
6oz Horween (Chicago, Illinois) bison leather heel cup.
Black 4mm crepe-lite rubber outsole.
Silver Nickel rivet strap stays.
Hand burnished edges. 
Sealed with Hawaiian kukui nut oil.
Hand stamped KōNEA Footwear branding. 
Packaged with 272gsm military grade canvas drawstring bag. (No plastic) 
I suggest not using sandals in wet weather conditions unless you have experience drying and re-conditioning leather.  (Questions 📧mail: info@koneafootwear.com)
Shipping

 
***** All Kūkini Traditional Sandals available on the stock page will ship out next business day.  No crafting wait time needed!  
 How to lace up Kūkini Pono's